Zakynthos Restaurants & Tavernas in Zakynthos Zante

Zakinthian Tavernas - Zakynthos - Ionian Islands Greece
Votsalo Taverna - Keri Lake

| | |
| --- | --- |
| | Located in the slopes of a lush green hill in Marathias area, Votsalo is a traditional tavern dating... |
| | Visit website » |

Bassia - Akrotiri

| | |
| --- | --- |
| | Enjoy fine dining under the stars with the blue Ionian Sea spread out in front of you as... |
| | Visit website » |
Dominicale Sea Food Restaurant - Argassi

| | |
| --- | --- |
| | The DOMINICALE restaurant is situated on the East coast of Zakynthos Island, embraced by the natural haven of... |
| | Visit website » |

Fidelio Restaurant - Alykes

| | |
| --- | --- |
| | Fidelio family run restaurant in the centre of Alykes, offering a wide range of exquisite cuisine all home... |
| | Visit website » |
Nikos Taverna - Vassilikos

| | |
| --- | --- |
| | Welcome to Nikos Taverna located on the beautiful, picturesque peninsula of Vassilikos in the village of Gerakas. This pretty... |
| | Visit website » |

Paradosiako - Alykes

| | |
| --- | --- |
| | To Paradosiako is a marvellous Greek taverna, situated on the main road, 100 m from the beach of... |
| | Visit website » |
Relax Restaurant - Alykes

| | |
| --- | --- |
| | Relax Restaurant-Bar is delighted to welcome old customers and new to enjoy a relaxing morning, afternoon or evening... |
| | Visit website » |

Taverna Diahroniko - Select

| | |
| --- | --- |
| | A farm, a family, our homestead, dedication and all that grows in our land, here at Skoulikado, in... |
| | Visit website » |
Noya Restaurant - Tsilivi

| | |
| --- | --- |
| | Noya Restaurant is housed in the central building of the St. John Villas complex, offering amazing views of... |
| | Visit website » |

San Leon Restaurant - Agios Leontas

| | |
| --- | --- |
| | Using our traditional, homemade local products, we create excellent and quality food from pure, top quality raw materials... |
| | Visit website » |
Windmill Restaurant - Vassilikos

| | |
| --- | --- |
| | Windmill Restaurant in Vasilikos welcomes you to the beautiful island of Zakynthos and the unique flavours of Zakynthian... |
| | Visit website » |

Avra Taverna Restaurant - Tsilivi

| | |
| --- | --- |
| | A large, open place and a friendly atmosphere, along with a wide range of dishes to remember and... |
| | Visit website » |
Avli Taverna - Tsilivi

Aliotiko Restaurant - Tsilivi

| | |
| --- | --- |
| | Aliotiko Taverna – Restaurant, the very essence of the Greek tavern, in a wonderful environment, awaiting your visit.... |
| | Visit website » |
Burger Moo - Zante Town

| | |
| --- | --- |
| | Burger Moo the absolute burger joint in the heart of the beautiful Zante Town!!... |
| | Visit website » |

Oasis Taverna - Alykanas

| | |
| --- | --- |
| | Oasis is a family restaurant/tavern that began back in 1996 and carries on serving countless of satisfied customers... |
| | Visit website » |
Ktima Grampsa - Lagopodo

| | |
| --- | --- |
| | The Family Grampsas Winery is located in the semi-mountainous village of the beautiful island of Zakythos named Lagopodo,... |
| | Visit website » |

Cebu Club & Restaurant - Argassi

| | |
| --- | --- |
| | Selected ingredients and labels of excellence for a supreme quality cuisine where the chef rather than a cook,... |
| | Visit website » |
Banana Casa Playa - Vassilikos

| | |
| --- | --- |
| | Casa Playa Beach Bar - Restaurant is located in the area of the traditional Vassilikos village, Zakynthos, a... |
| | Visit website » |

San Piero Restaurant - Laganas

| | |
| --- | --- |
| | A gastronomic center where only the beauty of the relaxing view can compete with its taste. great food!... |
| | Visit website » |
Porto Kaminia Beach Bar Restaurant - Vassilikos

| | |
| --- | --- |
| | Where the clear blue of the Ionian Sea meets carefully tended gardens, the traveler will find Porto Kaminia... |
| | Visit website » |

Chef-i - Zante Town

| | |
| --- | --- |
| | Chef-i helps you combine your vacation with gastronomy and explore fine cuisine through full-time private Chefs, cooking seminars... |
| | Visit website » |
Eating out in Greece is a national pastime and a leisurely pleasure. Whether dining at a local taverna or an elegant restaurant, Greeks take their time over food. The native cuisine is delightfully uncomplicated and quite different from what's found in Greek restaurants abroad.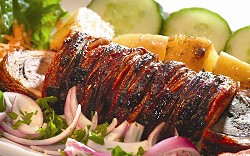 Much of the cooking relies on simple seasonings and fresh meat and vegetables.
It's common for Greeks to make a lunch of mezedes, or hors d'oeuvres. Typical dishes include fried meatballs, squash balls, octopus, shrimp, squid, cheese, olives, stuffed vine leaves, tzatziki (garlicky yogurt and cucumbers), eggplant dip, small sausages and giant beans. You can find mezedes at an ouzeri (serving ouzo, an anise-flavored liqueur) or at a mezedopolio (serving locally produced wine or beer); both of these types of restaurants are open only during the day. For the evening meal, Greek tavernas serve such specialties as moussaka (lamb, eggplant and bechamel sauce), kabobs, pastitsio (lamb or goat meat with macaroni and tomatoes), stifado (braised beef with onions) and paidakia (grilled lamb or goat chops).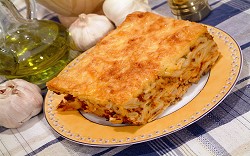 The cost of dinner for one, not including drinks, start 10 Euro Aprox
The Zakynthian cuisine features pure and original dishes and flavours, and has really fascinated each tester. The traditional dishes of the past years are available until today eve from the large restaurants in the tourist areas.
You may enjoy the exquisite local dishes, in the Taverns together with the local music, kantades & arekies songs, and together with the pure local wine of your preference.
Most traditional Taverns are found in the city of Zakynthos, in Bohali and in the area of Vasilikos. For fresh fish you may choose one of the Taverns in Keri in Keri and Porto Roma.
The food on the island of Zakynthos is similar to the other islands of the Ionians with small variations and some local specialities.
The specialities of Zakynthos are:
The "Stuffed Chicken or Rabbit"
The "Skordostoumbi Melitzana": It is a dish of aubergines in garlic sauce.
The "Beef Ragout"
The "Tsilikourdo" which is an Easter Saturday dish. It is made from intestines and offal of a baby goat or lamb